At EVY, we are passionate about sharing our knowledge about sunscreen and the effects of sun exposure. We know what people need to know but also what they want. Many of our customers have sensitive skin and can't be exposed to the strong sun for a longer period of time. This doesn't mean that they don't want to have a sun-kissed skin. To stop people from damaging their skin in order to achieve a tan, we have developed a new tanning range.
Let´s face it; there is no healthy sun tan. Try EVY`s revolutionary high-quality tanning range whenever you want a quick and fresh sun-kissed look! Enjoy all year-round radiance with EVY's, developed for the most sensitive skin but suitable for all skin types and tones. The products deliver premium skin benefits to enhance your natural glow and develop your desired depth of tan from day one. These everyday essentials are designed to perfect, illuminate and firm skin while simultaneously protecting the skin from UV damage. Infusing skin-loving ingredients for long-lasting hydration leaves you with a healthy, nourished glow.
What is the difference between a Tan activator and a Self-tan mousse?
The Self-Tan reacts with the amino groups of the proteins in the stratum corneum in the first layer of the epidermis and gives a gradual tanned colour that develops during 24 hours.
VS
The Tan Activator stimulates the "real" tan. It can activate and extend tanning by triggering the natural melanogenesis process in the deeper layer of the epidermis. This process is based on your skin´s ability to create melanin, so you will not tan where there is no melanin in the skin.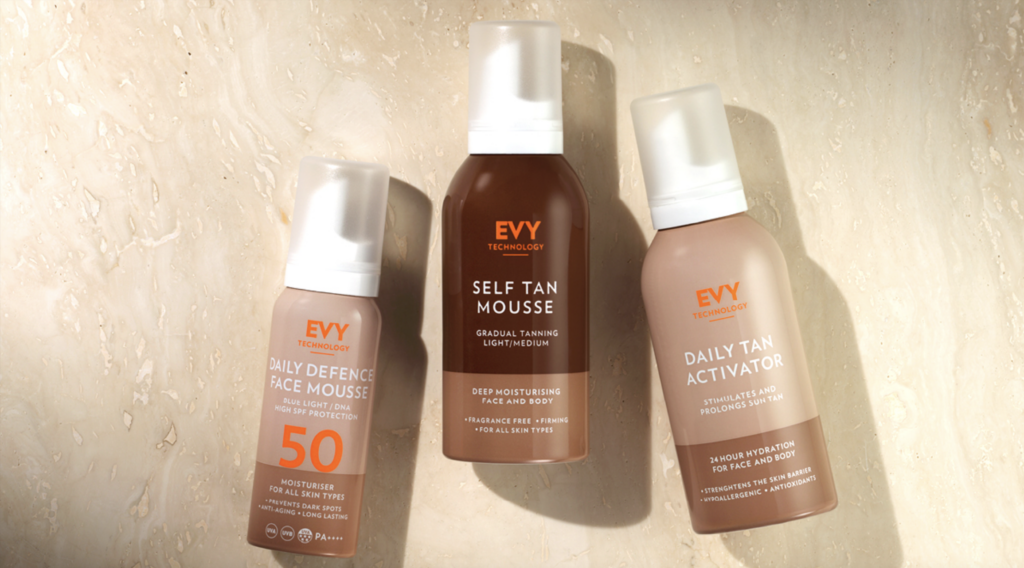 Daily Tan Activator
A melanin booster for healthy skin without UVB radiation after 72 hours. The unique ingredient EPSLINE stimulates the skin's melanin production, so some people may experience a lighter tan when used regularly.
• It is not a fake tan! It's an intensive moisturising and nourishing face and body mousse that stimulates the skin's natural melanin production while improving its natural anti-inflammatory and antioxidant defences.
• It prepares the skin for sun exposure and works in the deeper skin layers. With regular usage, one can experience natural sun-kissed skin faster.
• The effect takes about a week, but we advise using it as a body lotion all year around. Protects your skin against irritating and dehydrating factors such as sun, salt and chlorinated water.
• Suitable for all skin types, even people who suffer from eczema, sun eczema or sun allergies.
• Free from added preservatives, alcohol and perfume. Suitable for vegans.
Hybrid Self-Tan Skin Care Hero.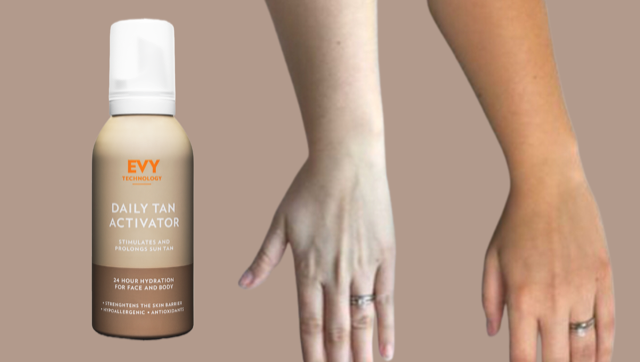 Self Tan Mousse
Self-tan comes in two tones, light/ medium and medium/dark, with a dual action. It hydrates and nourishes your skin while gradually building to a natural golden tan. The formula is very easy to use and delivers a perfectly even skin tone due to the mix of DHA and the advanced ingredient Erythrulose. The combination enhances a natural-looking, long-lasting tan.
• Colourless / No dark pores or need to clean away guidance colour.
• Free from added preservatives, alcohol and perfume.
• Allergy tested and suitable for sensitive skin. Self-tanners are usually not designed for sensitive skin because the main ingredient DHA is dehydrating and irritating.
• Visible after 2-4 hours and continues to develop throughout 24h. Tanning that lasts a few days and can be gradually layered and deepened step by step.
• Protects the skin's DNA from UV-induced stress and premature ageing.
• Intensely moisturising, so no other moisturising should be used before application! It risks worsening the tanning results.
• Increased skin elasticity and firmness.
• Won't stain clothes and shouldn't be washed off.
• Vegan
NOTE: Does not contain any sun protection factor, so ensure to combine it with sunscreen for the best effect. Using sunscreen over a self-tanner is the best way to maintain an even skin tone and protect yourself from sun damage.